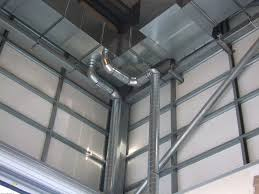 RAC Kettering are experienced and able to offer design, installation and manufacturing of sheet metal ductwork and ventilation systems. RAC Kettering are able undertake ductwork ventilation systems for a wide scope of applications such as warehouse ventilation and extraction systems complete with air handling unit.
Our manufacturing facilites enable sheet metal ductwork, constructed from hot dipped galvanised steel or stainless steel sheet. Stainless steel is used in areas such as food processing and manufacture due to its corrosion resistance or for asthetic reasons. Duct work can either be spirally wound or rectangular to any size and insulated on site.
The ductwork sytem will be designed with the supply air fan or air handling unit, dampers, flexible ductwork, attenuators and air diffuser grills to provide a positive air pressure. Extract air ductork and fan will remove dirty or stale air.

Air Sock Duct System for Night Club